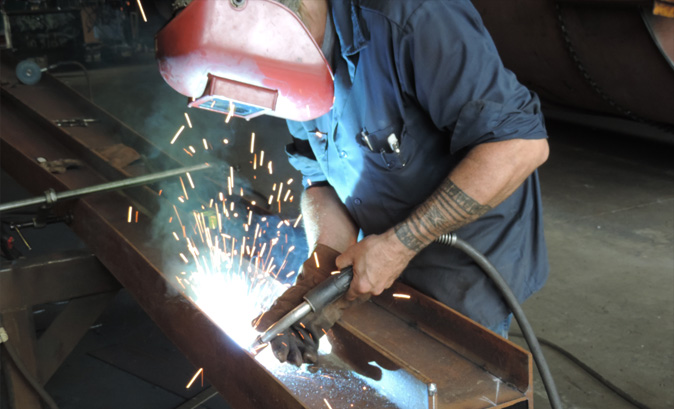 Complete on-site repair facilities for all makes and models
Trailer Repairs and Modifications.
JMH offers a complete on-site repair facility. We service all makes and models of dump trailers and dump bodies.
Truck and trailer repair services including:
Rollover repairs, replacement floors, floor sheets, plastic floor liners and side sheets.
Over-top and cutout corner bracing (steel and aluminum).
Wetlines: All types, pumps, PTOs (Chelsea and Muncie), hydraulic tanks, STD, pressure returns and complete systems.
Frame and body straightening.
Tailgate and latch modifications and repairs.
Trailer and body repairs and modifications.
Walking floor repair and or replacement.
Watertight tailgates.
Suspension alignment and rebushing.
Flatbed and Van Trailer suspensions.
Fifth wheel repair, or replacement, plates and pins.
Minor body work. All sandblasted metal gets 2 coats primer, 2 coats polyurethane finish.
Lights and electrical, special lighting, L.E.D. lighting conversions, (featuring Trucklite).
Lift axles (Hendrickson and Neway).
Replacement axles ("IMT" axles).
Tarp system for straight trucks and trailers (JMH Custom & Aero Tarp Systems).
Toolboxes.
Brakes and linings.
Garbage packer chutes, heavy equipment bucket and blade repair.
Short run shearing, cutting, bending, light machining and welding.
JMH "in-house" truck and trailer services include:
Truck and trailer parts: Due to a high demand for many of our truck and trailer parts, JMH Trailers has made many of our parts available to the public. Now you can purchase air valves and fittings, hydraulic lines, brake lines, truck and trailer body parts, PTO's, suspension parts, tailgate parts and hundreds of other truck and trailer parts.
Replacement dump truck bodies: Steel Dump Body's, Aluminum Dump Body's, JMH Flat Bottom Bodies, Vibrators, Heated Bodies, Custom Dump Truck Body applications built and fit to your trucks specifications.
Sandblasting and pinting services: Sandblast to bare metal, two coats epoxy or urethane primer, two coats polyurethane paint. We use on the highest quality, heavy-duty commercial materials and paints!
Quick turnaround! No Job Too Big Or Small!
Specializing in: Dump Bodies, Dump Trailers, Frames and Flat Beds and all types of trucks, trailers, heavy duty equipment, (Dozers, Backhoes, Rollers, Cranes) and heavy duty snowplows.
Make Your Old Truck or Trailer Look New Again!
High-definition plasma metal cutting services: State of the art high-definition plasma metal cutting services featuring Messer M G Systems & Welding Inc.'s Metal Master Plus.
Plasma table torching: Cutting of short run parts in steel, aluminum and stainless.
Exact repeatability for subsequent orders. Cutting thicknesses to 1″ with plasma, (thicker with oxy torch).
Hydraulic cylinder manufacture and repairs: Rebuilding of hydraulic hoists, repacking, rebuilding all types of hydraulic cylinders.
We can handle tubes from 22″ ID diameter to 16″ long. Manufacture of custom or obsolete cylinders.
New chrome rods, new wear bands, millwork, honing and belt polishing.
Truck part fabricating: Custom made parts for the "do-it-yourselfer". Custom made trailer and truck body parts.
Truck trailer loans and financing: Financing options and terms that meet your budget and business needs.